Nic Hague signed to three-year deal
The most anticipated signing for the Vegas Golden Knights heading into the 2022-23 season has finally been announced. Defenseman Nic Hague has signed a three-year deal with the club for an average of $2.294 million per season. After his contract expires in 2025, he will once again be a restricted free agent. Included in the deal, Hague will collect about $2.66 million in signing bonus money over the next two seasons.
The Hague signing comes under the backdrop of the Golden Knights facing the perils of working around the NHL's hard line salary cap. With Robin Lehner, Shea Weber and Nolan Patrick on the long term injured list alongside an injured Laurent Brossoit, the Golden Knights could exceed the cap by around $14 million. Prior to the Hague signing, the club had roughly a $3 million buffer to make a deal with Hague happen.
According to coach Bruce Cassidy, Hague will not be available for the first regular season game against the Los Angeles Kings but should be ready for the line up by the weekend contest against the Seattle Kraken on Saturday. A second round pick by the Golden Knights in the 2017 NHL Entry Draft, Hague has become a major staple in the team's defense. During his time in the NHL with the Golden Knights. he has played in 142 games scoring 10 goals and 42 assists.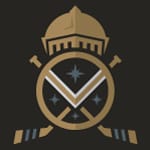 Want your voice heard? Join the Vegas Hockey Knight team!
Write for us!
General Manager Kelly McCrimmon commented on Hague as a player on Monday afternoon announcing the deal. "Nic loves being a Vegas Golden Knight and we love having him. It was slower than we would've liked. These things sometimes drag on. We're really looking forward to getting Nic back in town." During the hold out, Hague has been his native Kitchener, Ontario doing some individual training.
In other roster moves, The Golden Knights are expected to move Brossoit to the injured list to save some room for emergency call ups and other key moves the club needs to make. Right-winger Jonas Rondbjerg has cleared waivers and will be assigned to the Henderson Silver Knights, who will open their season on October 14 against the Tucson Roadrunners.