Golden Knights: Brayden McNabb makes a great point about physicality
As the Golden Knights prepare for Game 2 tonight against the Minnesota Wild, the team knows that it's all about the little things when it comes to winning. Their Game 1 matchup against the Wild came after a tough overtime loss to the final tune of 1-0 with one aspect of their game definitely missing. Besides failing to score a single goal, the one thing that was undoubtedly missing all game long was their overall physicality.
Defenceman Brayden McNabb knows all about this as he recently chimed his thoughts about what was truly missing in their Sunday night playoff loss. It's no secret that the Golden Knights are indeed one of those magical teams that can keep up with any team but their Game 1 loss opened up a lot of discussion about their physicality.
The Stanley Cup Playoffs are a whole different vibe as these kinds of losses can and will happen but the most important thing will be how the Golden Knights bounce back. Yes, whenever this team was faced with adversity, they always knew how to adjust and get back into the swing of things as hopefully, that is the case here in their series against the Wild.
The Golden Knights need to bring the heat when it comes to physicality
McNabb broke down exactly what needs to happen from here on out for the Golden Knights. In an article written by Randy Johnson of the Star Tribune, here's what McNabb said about the Wild as the series continues:
"They're big and heavy," said Vegas defenseman Brayden McNabb, whose 10 hits Sunday tied for the team lead with Reaves. "… We've got size and we play that way, too, so it's definitely going to be [physical] going forward."
McNabb made a great point here about physicality. The Wild are a hungry team and made sure to show it by being very physical early on and showing up every time the Golden Knights got into any kind of rhythm. Game 1 totaled 128 hits combined by both teams as this series will only continue to get more physical and truly come down to defense setting the tone from start to finish.
Once the Golden Knights take care of business in the physicality department, everything should hopefully fall into place. They know how to score and score consistently so it's not a question in regards to that. However, their defense must bring the heat again and prove they can keep up and beat the Wild in these close, physical hockey games.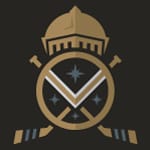 Want your voice heard? Join the Vegas Hockey Knight team!
Write for us!
McNabb is right, it's time for the Golden Knights to show that they can match up well physically against the Wild now that they got a taste of whatever they'll be bringing to the table in this playoff series. It won't be easy but the Golden Knights have been in the situation countless times before. They know what needs to get done to start leaving these playoff games victorious.