Vegas Golden Knights Report Card: Pierre-Edouard Bellemare
Pierre-Edouard Bellemare established himself as a real Swiss Army Knife type of player during his two-years with the Vegas Golden Knights, and he will be missed in Sin City after signing with the Colorado Avalanche in free agency.
Pierre-Edouard Bellemare: Grade B-
Our 2018-19 Vegas Golden Knights Report Cards return today as we switch our focus to veteran forward Pierre-Edouard Bellemare, who was as reliable as ever for his team in a variety of situations throughout last year…
His Season
Taken by the Vegas Golden Knights in the 2017 NHL Expansion Draft, Pierre-Edouard Bellemare carved out the best offensive season of his career in North America, tallying six goals and 10 assists for 16 points and a further three points in 20 postseason contests as the NHL's newest expansion team made a stunning run to the Stanley Cup Final in their inaugural year.
Having only moved across to the NHL at the age of 29 following long stints in France and Sweden, the ninth Frenchmen to play in the best hockey league in the world quickly evolved into a valuable two-way center for both the Philadelphia Flyers and then the Golden Knights.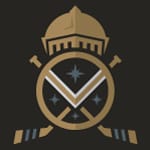 Want your voice heard? Join the Vegas Hockey Knight team!
Write for us!
Part of the "Meat Grinders" line, a term coined by Ryan Reaves when referring to the Knights' rough-and-ready fourth-line, Bellemare was once again an effective presence for his team throughout 2018-19, proving his credentials both on and off the ice.
Known as a real glue guy in the locker room and referred to by Jesse Granger of The Athletic as one of his "favorite guys to talk to," Bellemare established himself as a pivotal foundation block for this franchise and was named an Alternate Captain during his time in Sin City.
Turning our attention back to last year and Bellemare once again caused havoc for the opposition on a hugely productive and gritty fourth-line alongside Reaves and William Carrier, with the trio playing together for 47.91 percent of the year, while he also had Tomas Nosek (15.98 percent) and Ryan Carpenter (10.82 percent) as line-mates for chunks of the season.
However, it was with Reaves and Carrier when Bellemare was at his best and the trio dished out a staggering 653 hits between them, putting a whole new meaning into the term 'glutton for punishment' when it came to their opponents who were consistently beaten up when matched up against Vegas' punishing and bruising bottom line.
Bellemare is your ideal Swiss Army Knife forward in that he ticks most, if not all boxes when it comes to what he can bring to the table. In addition to laying on 71 hits in 2018-19, he also blocked 51 shots and had 37 takeaways, while perhaps more impressive was his 54.7 winning percentage in the faceoff circle.
You need your fourth-line pivot to excel when taking draws and Bellemare quickly emerged as one of the best in the business when it came to taking faceoffs in the NHL. You also have to rely on your bottom-line grinders to be superb penalty killers and there were few better than the 34-year-old, as backed up by 86.0 save percentage the Knights had shorthanded while Bellemare was on the ice, coupled with the 97.6 PDO.
That tells you all you need to know when it comes to assessing Bellemare's prowess on the penalty kill and also when you look at his brilliance as a two-way forward in the NHL. He was dominant in both zones throughout 2018-19 and finished the year with a CF% of 53.6 and a 54.5 oZS%.
In terms of his offensive production, the center did endure a slight dip in his numbers compared to the year before, totalling six goals and nine assists for 15 points as opposed to the 16 points (six goals, 10 assists) he put up in 2017-18. However, those particular stats don't tell the whole story as Bellemare was a positive factor in the offensive zone when going by the eye test too.
And you only have to consider these stats to understand just how important Bellemare was to the Golden Knights. In total, 218 high danger chances were created while the Frenchman was on the ice, as opposed to 183 for the opposition, giving him a HDCF% of 54.36 percent. Also, Bellemare began 237 of his 522 shifts in the defensive zone (45.4 percent), which is an absurd amount but it also underlines his value to the franchise.
As a result, Bellemare logged on average 12:26 minutes of ice time per night which is respectable for a bottom-line forward, and he could be trusted by the coaching staff as backed up by the fact that he only gave up six minutes of penalty time in 2018-19, which is crazy considering the role he played as a disruptor to the opposition's top lines.
Bellemare was also relied upon in the postseason, logging on average 11:44 minutes of ice time per game and winning 50.8 percent of his draws in the faceoff circle, blocking six shots, dishing out 15 hits and having four takeaways and just three giveaways. He was held without a point in six games, however, but you can argue that it was absence in Game 7 due to injury that really hurt the Golden Knights who dearly missed Bellemare's prowess in the faceoff circle after being hit with four power play goals in as many minutes by the San Jose Sharks. We don't need to say any more on that.
And that was a brief taste of what life will be like without Bellemare, a full-time reality for the Vegas Golden Knights now after the hugely popular veteran and locker room glue guy signed for the Colorado Avalanche on the first day of free agency. The 34-year-old had a colossal impact during his time in Sin City and he will be missed on and off the ice.