Vegas Golden Knights Recall Oscar Dansk
It's official; the Vegas Golden Knights are in a goaltending crisis for the second time in their inaugural season.
Just when you think the Vegas Golden Knights are back on track, the team gets handed another injury. After the first period, Marc-Andre Fleury left the game VS the Vancouver Canucks due to an undisclosed injury. As of this writing, we aren't sure what happened during the events of the first period with Fleury.
The Golden Knights simply cannot afford this type of injury right now. Playing Fleury too much ended up costing the Golden Knights, and now they'll have to pay the price. However, this could be a fantastic opportunity for Fleury to rest some other bumps and bruises and also brings an opportunity for the young goaltenders to play.
On Wednesday, the Golden Knights have recalled Oscar Dansk from the Chicago Wolves of the American Hockey League. Dansk will travel with the team on the upcoming two-game road trip to San Jose and Colorado. All in all, Fleury will not play the next two games.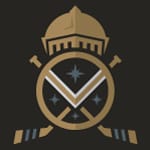 Want your voice heard? Join the Vegas Hockey Knight team!
Write for us!
For those who don't remember Dansk"s first call-up, we're here to give you a refresher. In four games played, the 24-year old started three games and went 3-0-0 with one shutout. But that's not all; he posted a 1.78 GAA and a save percentage of .946%.
Dansk was one of my favorite goaltenders to watch all year. Even though his time in net was cut short due to injury, he was entertaining to watch. He reminded me of Fleury with his movements, but he's still green and has a long way to go.
The Golden Knights will carry a goaltending tandem of Dansk and Malcolm Subban. By far the youngest goaltending duo in the NHL today. I fully expect both goalies will play one game each on the road trip and then they will see where they're at with Fleury.
If Fleury is out a long stretch of time, this could create significant problems for the Golden Knights heading into the playoffs. When the team had Fleury, they had the luxury of having a playoff-tested goaltender that has three Stanley Cup to his resume'. Two raw netminders with no NHL playoff experience equals a bad recipe.
Overall, the injury to Fleury is a massive one. But if any team knows how to go through goaltender misfortune, it's the Vegas Golden Knights. The duo of Subban and Dansk should prove to be more than serviceable until the Flower comes back.